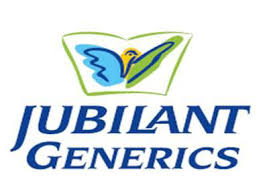 Jubilant Generics Limited is a globally integrated pharmaceutical organization. Jubilant supply products and services to customers in over 85 countries. Jubilant has 4 manufacturing facilities in North America and two in India, coupled with R & D in North America and India. It has a distribution network of more than fifty radiopharmacy in the US.
Jubilant Life Sciences Ltd is an integrated global life science organization engaged in Pharmaceuticals, Life Science Ingredients and Other businesses including Drug Discovery Solutions and India Branded Pharmaceuticals. The Life Science Ingredients segment is engaged in Specialty Intermediates, Nutritional Products, and Life Science Chemicals through manufacturing facilities in India. The Drug Discovery Solutions business provides proprietary in-house innovation & collaborative research and partnership for out-licensing through 2 world-class research centers in India. Jubilant Life Sciences Limited has a team of around 7,700 multicultural people across the globe and is committed to delivering value to its customers across over 100 countries. The Company is well recognized as a 'Partner of Choice' by leading pharmaceuticals and life sciences companies globally.
The large scale capacity manufacturing sites in India provide cost advantages in terms of wages and raw materials prices as compared to many of our global competitors. The APIs from manufacturing facility is used for Solid Dosage Formulations business. Such integration between Solid Dosage Formulations and APIs business lines allows to continuously improve cost of production. All the manufacturing plants in accordance with cGMP and other applicable requirements. Currently operates 4 US FDA approved manufacturing facilities in North America and 2 USFDA approved manufacturing facilities in India.
Jubilant Generics Walk-In-Interview For IPQA, QC, Production
Please follow and like us: